WCEAM-2018 partnership days with Nordic Edge EXPO and Nordic Edge Conferences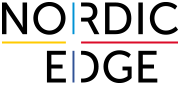 Wednesday 26th Sept. & Thursday 27th Sept.
All the delagates of WCEAM-2018 will have FREE access to the Nordic Edge EXPO on Wed. 26th Sept., and/or Thurs. 27th Sept. We will send you the link for a seperate Nordic Edge EXPO registration after you have registered for WCEAM-2018.
Also, all Registered persons for the WCEAM-2018 will get a Specially discounted rate to attend the Nordic Edge conferences on Thursday the 27th Sept., where special events will be staged such as KnowHow EdTech event on modern education technologies, Energy track, Lighthouse city program, and Nordic–China program, etc.
In just three years, Nordic Edge has become the largest Smart City event in the Nordics.
Nordic Edge aims to be one of Europe´s most important arenas for knowledge exchange and inspiration to creators of smarter businesses, cities and societies. The quest for a Smarter City is all about making better communities to live in – more liveable urban spaces where citizen interests and well-being come first. By bringing together the best thinkers and the best doers, Nordic Edge Expo will be a not-to-be missed arena for inspiration, insights, idea exchange and action.
For more information about Nordic Edge events; Nordic Edge Expo